Regular price
Sale price
$9.95
Unit price
per
Sale
Sold out
Region: Assam, India. Hunan, China. Morawaka, Sri Lanka

Tasting Notes: Malt, Fall Leaves, Tobacco, Cocoa, Cinnamon
Serving: 1 bag / 8 fl oz.

Temperature: 95°C

Time: 3 min
Assam is a low-lying region in India to the south of the Himalayas. The extreme heat and monsoon rains render the tea leaves broad and thick providing a robust, malty character. Organic Assam Breakfast is a well-balanced and full-bodied blend of Assam, Keemun and Kenyan black teas. It pairs perfectly with milk or over ice with a slice of lemon.
Also Available as Loose Leaf:
For those who love the ritual of tea preparation, explore this delicious blend as Organic Assam Breakfast - English Breakfast Loose Leaf Tea.
View full details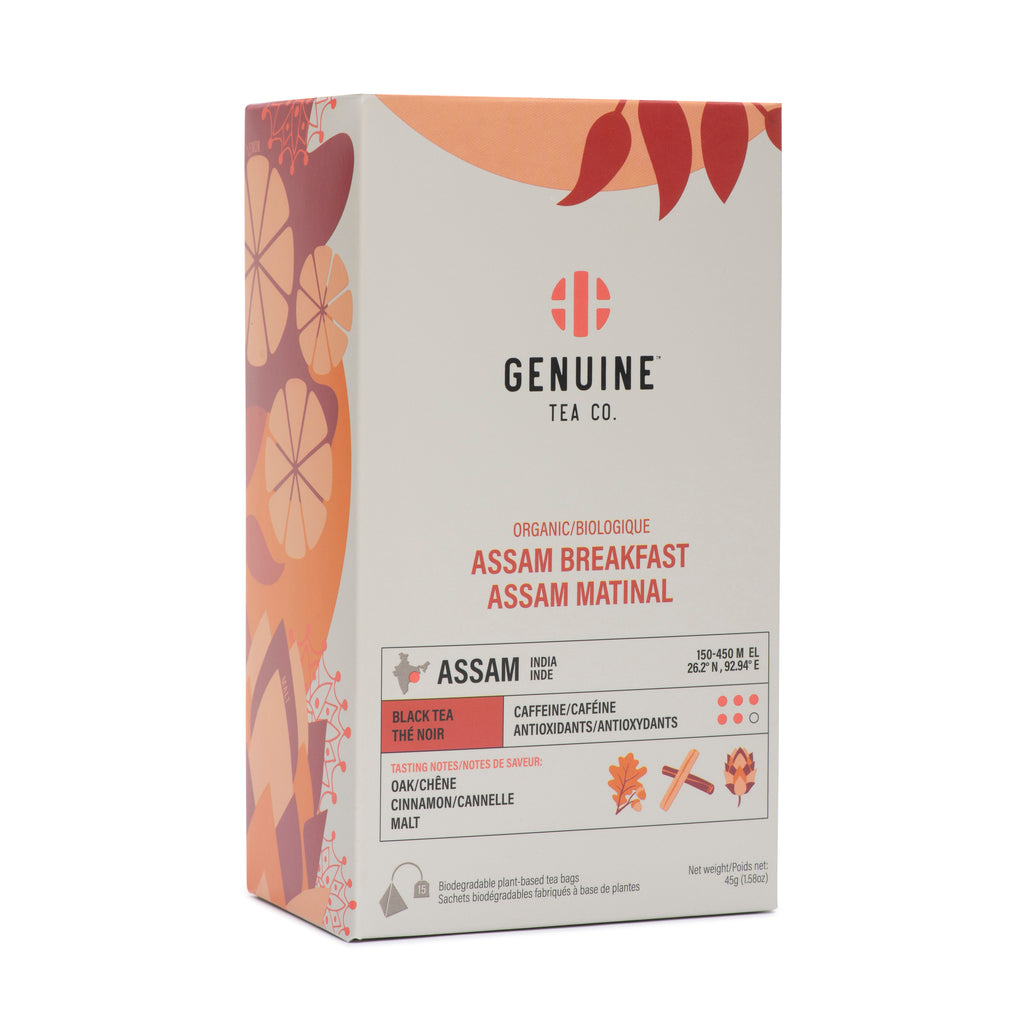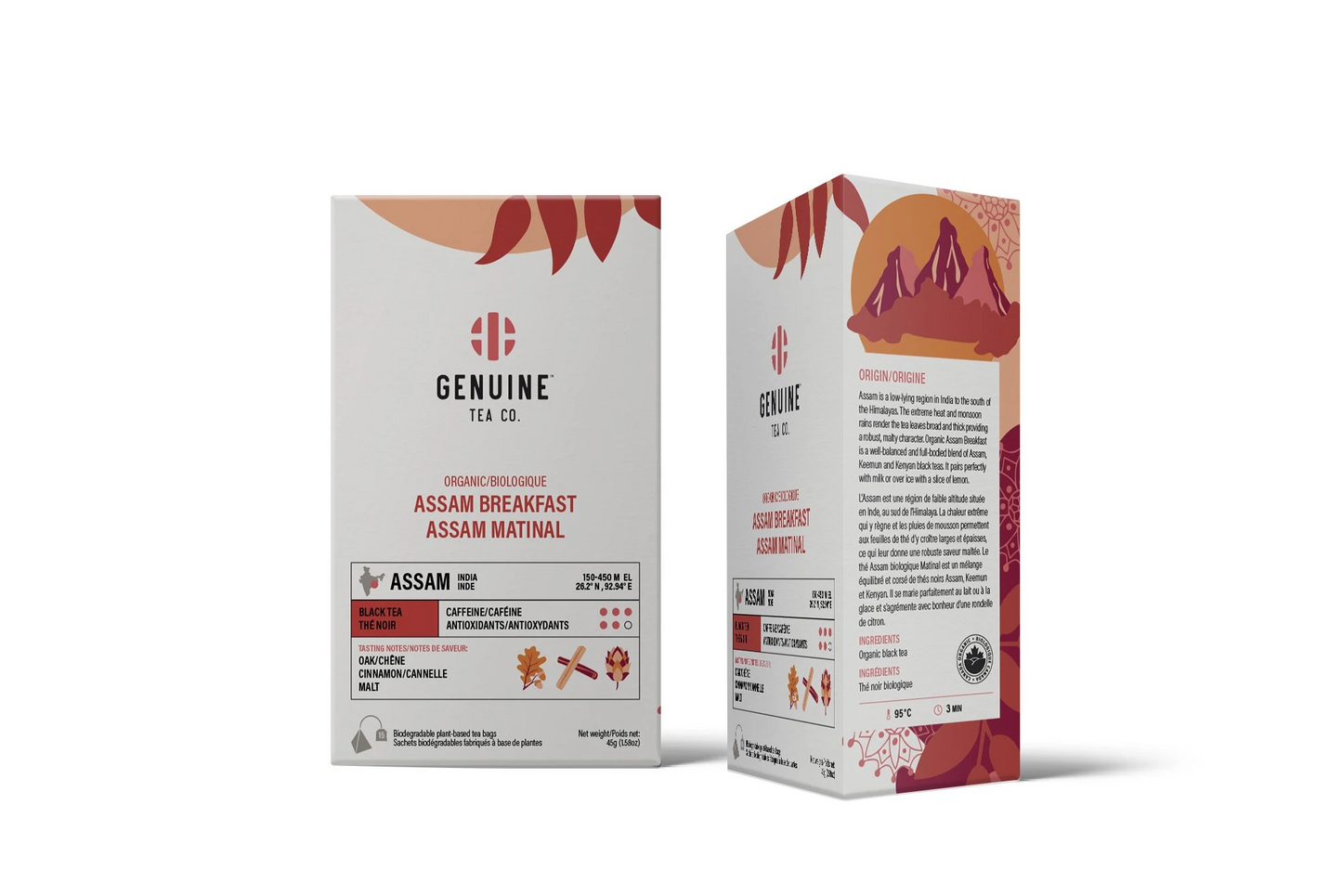 FAQ
🌍 Are your tea bags eco-friendly?

Absolutely! We're as passionate about our planet as we are about tea. 🌍💚 Our biodegradable, plant-based pyramid tea bags are not only kind to Mother Earth but also perfect for eco-conscious tea lovers like you. Dive deeper into how we're making sips sustainable in our blog and let's steep responsibly together!
📌 How should I steep my tea bag for the best flavour?

Brewing a delightful cup is both an art and a science! Here's a simple guide for steeped perfection:

Start with fresh, cold water and bring it to a boil.
Pour the hot water over the tea bag in your cup.
Let it steep for 3-5 minutes. Adjust steeping time based on your taste preference – longer for a bolder taste, and shorter for a milder flavour.
Remove the tea bag, give it a gentle squeeze to extract the full flavour, and enjoy!

🍵❤️ Tip: Each tea type has its ideal steeping time. Always check the tea's packaging for any specific recommendations!
📆 How long will my tea bags stay fresh?

When you keep our tea sealed in a cool, chill spot, it'll stay fresh and fab for up to 24 months. Popped open that seal? No worries! Just enjoy your brew within 6 months for that peak flavour.

You might consider exploring our airtight canisters, designed to preserve your tea's freshness just as effectively as the first time you opened it.
🌱 Is the tea organic?

While our tea is ethically sourced and of the highest quality, not all of them have official organic certification. However, each of our non-certified blends contains over 60% organic ingredients. For those in search of 100% certified organic options, we recommend exploring our selection of organic teas to find your perfect brew.
❤️ What makes Genuine Tea better than others?

Great question! Here's why we believe we stand out:

1. Ethical Sourcing: At Genuine Tea, our heart is in every leaf. Our teas are ethically sourced, ensuring that both our environment and the wonderful farmers who grow our leaves are treated with utmost respect.

2. A Cause Close to Our Heart: We're not just about brewing the perfect cup; we're about brewing a better world. We're deeply committed to promoting mental health and wellness. In fact, 1% of all our proceeds go straight to the Canadian Mental Health Association (CMHA). The CMHA is an incredible organization that works tirelessly to support recovery and resilience, ensuring all Canadians can flourish and thrive. Want to know more? Dive into our mental health support page.

So, when you sip Genuine Tea, know that it's not just good for your soul but also makes the world a tad brighter!
💰 Do you offer subscription or wholesale discounts?

Absolutely! If you're a tea lover, our "subscribe & save 15%" option might just be your cup of tea. Whether you have a favourite blend or are trying something new, save while sipping!

Hey, wholesalers, we haven't forgotten about you! 🎉 Dive into our wholesale page and create your wholesale account to discover special pricing tailored just for you. Do you have questions or need more details? Don't hesitate to get in touch with our team. We're here to brew your day better!
😞 I'm not sipping with a smile

If you're not sipping with a smile, please reach out within 30 days of purchase. Whether your shipment is damaged or the tea isn't to your taste, we'll either resend your order or offer a refund. For more details, please check our return policy page.